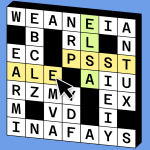 Whether you are a casual gamer seeking a quick mental exercise or a dedicated linguaphile looking for a challenging test of your vocabulary skills, crossword puzzles offer the perfect blend of entertainment and cognitive stimulation. These unique word games have been a staple of newspapers, magazines, and digital platforms for over a century, celebrated for their addictive allure and cognitive benefits.
The humble crossword puzzle originated in the early 20th century, credited to Arthur Wynne, a British journalist. The first crossword puzzle was published in the New York World newspaper in 1913, sparking a worldwide fascination with this simple yet engaging game.
A standard crossword puzzle consists of a grid, typically square or rectangular, filled with black and white squares. The goal is to fill the white squares with letters, forming words or phrases based on clues given for each word. The words are written in the grid from left to right (across) and from top to bottom (down). Black squares separate the words or phrases.
Crossword puzzles vary in complexity and style, from easy puzzles designed for beginners to cryptic crosswords renowned for their tricky clues and clever wordplay. Regardless of the level of difficulty, the central objective remains the same: solving clues and filling the grid with correct answers.
The beauty of crossword puzzles lies in their myriad benefits. They provide entertainment and a sense of accomplishment when a tricky puzzle is finally solved. From an educational standpoint, they enhance language skills, increase vocabulary, and improve spelling. Regular crossword-solving can also boost memory and cognitive functions, making these puzzles not just a pastime, but a beneficial mental exercise.
Digital technology has given crossword puzzles a new lease of life, expanding their reach and accessibility. Numerous websites and apps now offer a variety of crossword puzzles to suit every skill level. Let's take a look at ten of the most popular platforms for online crossword puzzle gaming:
New York Times Crossword: The New York Times Crossword is considered the pinnacle of crossword puzzles. Renowned for its exceptional quality and increasing difficulty throughout the week, it appeals to both casual and dedicated solvers. However, it requires a subscription for unlimited access.
LA Times Crossword: The Los Angeles Times offers a diverse range of crossword puzzles that are both challenging and fun. The daily puzzle is available for free on their website.
The Guardian Crossword: Known for its quintessential British-style cryptic crosswords, The Guardian offers a unique challenge to crossword enthusiasts. The puzzles, filled with witty and clever clues, can be accessed for free on The Guardian website.
Wall Street Journal Crossword: The Wall Street Journal offers a variety of crossword puzzles, each with its own unique theme and difficulty level. These puzzles, available for free on their website, provide a stimulating challenge to the users.
USA Today Crossword: USA Today offers engaging and approachable daily crossword puzzles for free on their website. The puzzles are easy to moderate in difficulty, making them suitable for beginners and intermediate solvers.
Washington Post Crossword: The Washington Post features daily crossword puzzles with a larger puzzle on Sundays. These puzzles can be played for free on The Washington Post website.
Boatload Puzzles: This platform offers a plethora of easy-to-solve crossword puzzles, making it an excellent choice for beginners. All puzzles can be played for free on their website.
Crossword Puzzle Free (App): This mobile app, available for free on iOS and Android, features a multitude of crossword puzzles of varying difficulties, providing an excellent portable option for crossword enthusiasts.
American Crosswords (App): Available on iOS and Android, this app features numerous American-style crosswords, with puzzles from top constructors.
Crossword Solver: While not a puzzle itself, Crossword Solver is a crucial tool for any crossword enthusiast. When you find yourself stuck on a particularly challenging clue, this website provides potential solutions, making it a handy companion for your crossword journey.
NYT Crossword Answers – If you are looking for the daily NYT Crossword Puzzle Answers then this website has both the mini and the classic crossword shared every single day.
In conclusion, crossword puzzles stand as an enduring testament to the joy of language and the thrill of problem-solving. They offer an engaging blend of education and entertainment, proving beneficial for mental acuity while serving as a rewarding pastime. With the variety of platforms available for online gameplay, you can dive into the world of crosswords anytime, anywhere. Whether you are a novice looking to improve your language skills or an expert aiming to challenge yourself, the world of crossword puzzles has something for everyone.